Version: ver. 1.1.0
Installation
Windows​
Minimum requirements for SquareLine Studio​
Intel x64 PC with minimum :

CPU: Intel or AMD processor with 64-bit support, 1.5 GHz or faster processor
RAM: 4 GB
HDD: 2 GB of storage space
GPU: DirectX 11 or OpenGL 2 support

Operating Systems :

Operating System: Windows 7 or newer (64-bit)
Screen Resolution: 1280 x 800
Internet connection is needed to activate the software
Installing SquareLine Studio​
Downloading SquareLine Studio from https://squareline.io/downloads
You should download and start SquareLine_Studio_Setup.exe file. Follow the instructions to complete the installation process.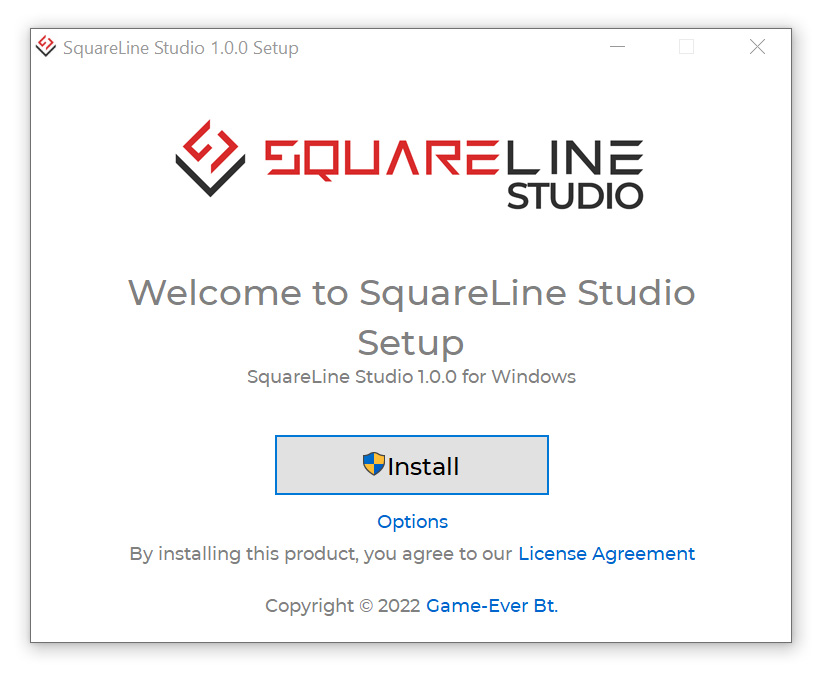 Having installed the program, you should launch SquareLine_Studio.exe file and you can start working.
Linux​
Minimum requirements for SquareLine Studio​
Intel x64 PC with minimum :

CPU: Intel or AMD processor with 64-bit support, 1.5 GHz or faster processor
RAM: 4 GB
HDD: 2 GB of storage space
GPU: Vulcan or OpenGL 2 support

Operating Systems :

Operating System: Ubuntu 18.04 compatible or newer
Screen Resolution: 1280 x 800
Internet connection is needed to activate the software
Installing SquareLine Studio​
Downloading SquareLine Studio from https://squareline.io/downloads
To install SquareLine Studio open a terminal, go to this folder and execute chmod +x setup.sh ./setup.sh
After that start SquareLine Studio with SquareLine_Studio.x86_64 or from the application menu (start menu).
macOS​
Minimum requirements for SquareLine Studio​
Intel x64 PC with minimum :

CPU: Intel 64-bit or ARM support 1.5 GHz or faster processor
HDD: 2 GB of storage space
GPU: Metal or OpenGL 2 support

Operating Systems :

Operating System: High Sierra 10.13 or newer
Screen Resolution: 1280 x 800
Internet connection is needed to activate the software
Installing SquareLine Studio​
Downloading SquareLine Studio from https://squareline.io/downloads
Launch SquareLineStudio, accept the Terms and Conditions and you are ready to use the software. If you have an ARM based CPU (e.g. Apple M1) then you should use Rosetta. Learn more here: